Odd name, right? A nickname between childhood friends down the local skatepark 10 years ago, only seemed fitting to become the name of our brand.
WeaselWerkz is a product of our passion for cars and creativity.
During the first lockdown of 2020, when the world came to an abrupt stop, rather than wallowing in despair we decided to be proactive and creative with our time.
We began creating our own content as a means to represent our style, creativity and enjoyment towards cars.
WeaselWerkz aspires to be an all-encompassing automotive business with a distinctive style. We aim to provide the car world with a creative and relatable brand that drives a positive message and sense of community. We aim to do this through high quality entertaining media, events, components and provide professional automotive services from a fully functional workshop.
It sounds great, but in order for this to happen we needed a suitable headquarters...
Our previous unit was a damp, rat infested shed. We were desperate to get out. Anyone lucky enough to have a garage or workshop knows how hard a good one can be to come by. We'd been looking for somewhere new for over 18 months, to no avail.
(Jamie putting a freshly built engine in his E46 touring at the old unit)
However, early this year we caught wind of an old farm unit close to our hometown which was soon to become vacant after nearly two decades. The only problem was that there was someone illegally living in it - and had been for a number of years.
After months of back and forth of their frustrating and prolonged eviction, we were finally handed the keys. We hadn't even seen the inside of this unit before agreeing to take on the project - we were that desperate for somewhere new. Nothing could have prepared us for what we were about to discover...
The reality of the situation became apparent very quickly. Although we were teeming with excitement at finally having a new space to work on our cars and take our little brand to the next step, our hearts sank the moment we took our first steps inside the newly acquired WeaselWerkz headquarters.
It was evident it hadn't been cleaned in nearly 20 years. Filth had accumulated in abundance, and as the space had been used for carpentry, the dust was like nothing you'd seen before. There was also a serious feline problem, so much so that we found multiple mummified deceased kittens. The stench of the place was by far the worst aspect of it; it was unbearable. You really couldn't be inside without a mask for the first month of our tenancy. How this person had lived in this space for so long was unimaginable.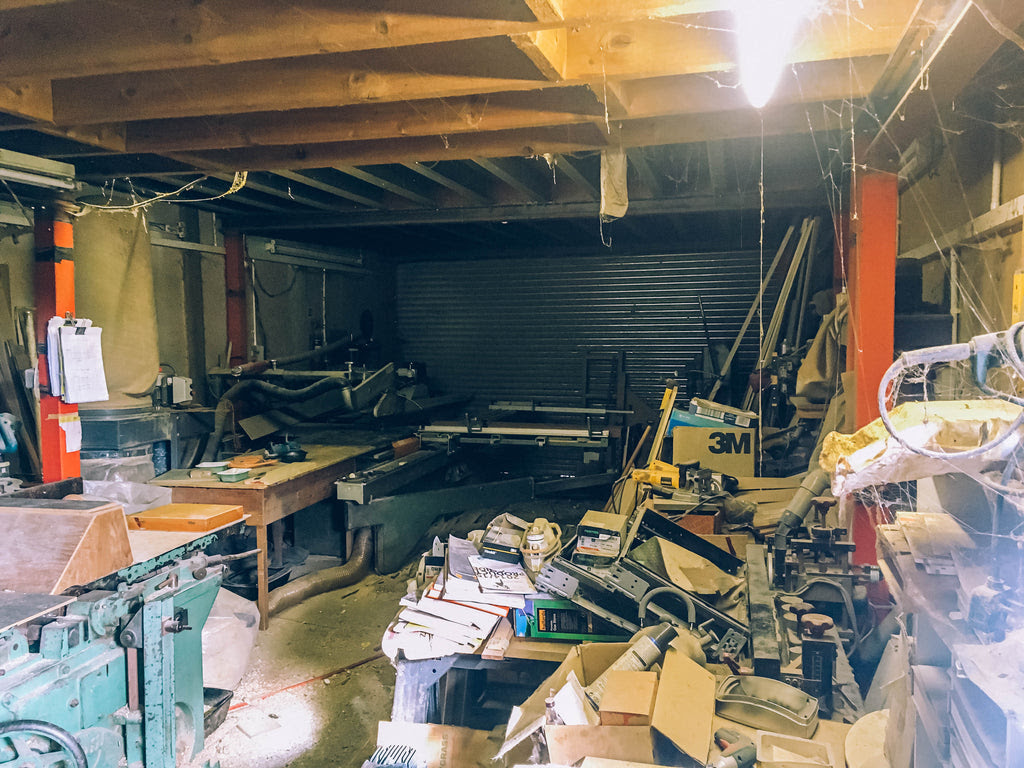 (Images from our first steps inside the new WeaselWerkz HQ)
We swiftly began removing his belongings, which he had kindly left, including his prehistoric machinery, rancid old furniture, and a few items a little too explicit to mention. We had to acid clean the concrete floor and replace the upstairs flooring after being permeated by excrement. It cannot be stressed how disgusting of an experience it was cleaning this space. Words and photos will never do it justice.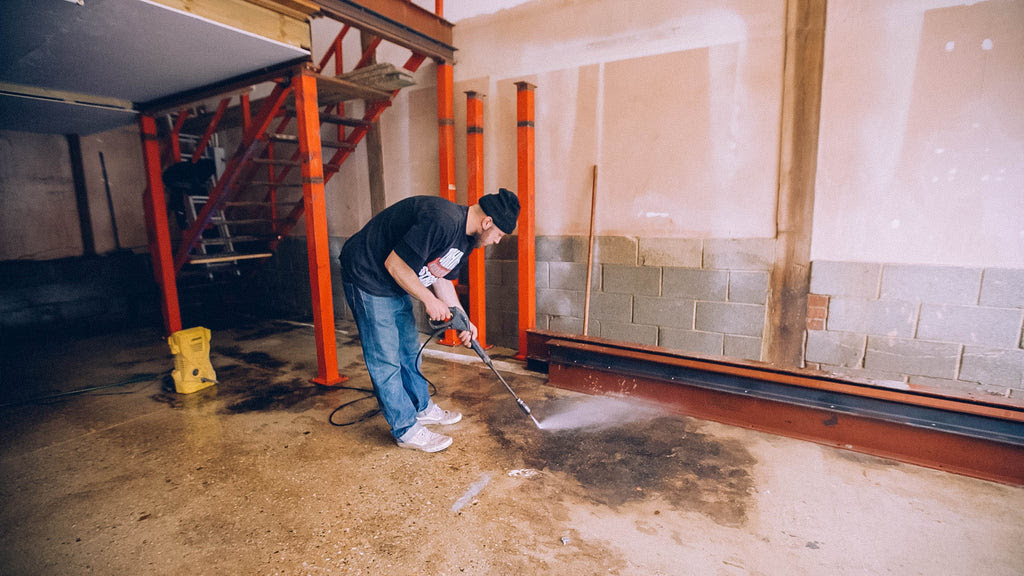 (Trying our best to remove the embedded stains left by the cats.)
After a few weeks, we had a blank canvas and the space became easier to envision; meaning we could finally begin creating our workspace. We want to highlight that neither of us had any experience in doing serious renovation work, and with a very limited budget we had to take on the workload ourselves. As a photographer and an engineer, we were both clueless in our newly found environment but we were extremely determined and with a plan set in motion, the process began.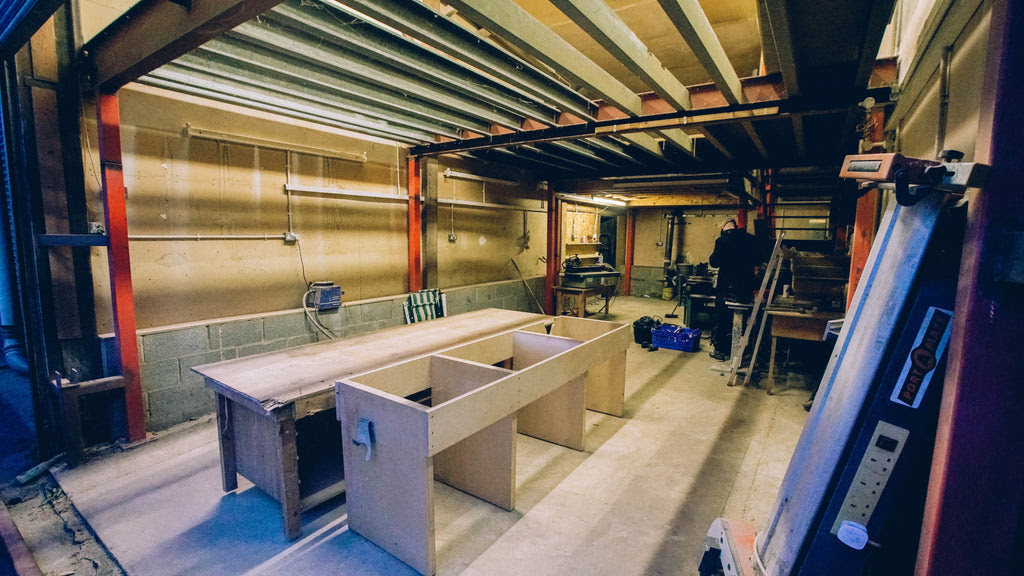 (With everything removed we could finally see the space for what it was.)
Arguably the most challenging task was remodelling the internal structure of the building by repositioning the steel girders. This involved removing half of the mezzanine floor, adjusting the length of a few uprights, welding them back together and then using two forklifts to position them correctly; leaving just enough room to squeeze a two-post lift inside. Several other challenges included were re-plumbing and re-wiring the entire property, and just for good measure, plastering and painting every surface.
(Various points of progress throughout the build.)
We really underestimated the amount of energy, time as well as money this project required. Our friendship was continuously tested and at the peak of the process our morale was at an all-time low, however we prevailed.
Fast forward thousands of hours and our vision was complete.
So without further ado...
WeaselWerkz HQ.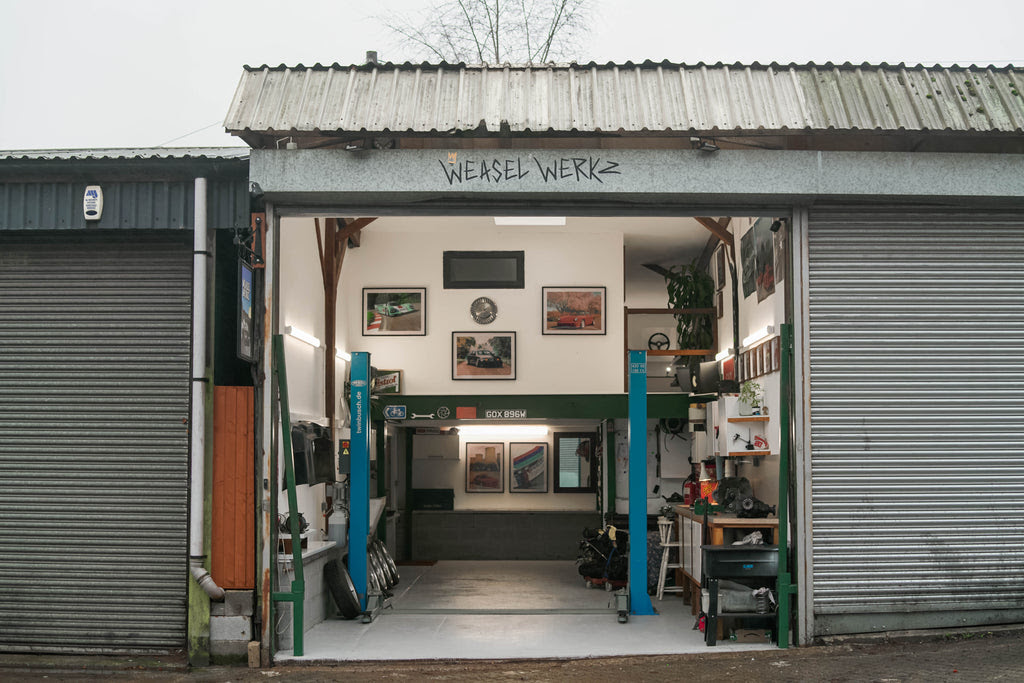 (The finished product.)
Arguably it is somewhat overboard for what essentially is a garage, however the aim was to create a space that reflects our style and hard work - core values of WeaselWerkz. 
Everything you can see in the photos or videos has been hand crafted, with the occasional help from professionals such as plumbers and electricians. A big thank you to all of the Weasels who gave their time and energy to help us achieve our dream. It was necessary to up-cycle a lot of the furniture either through donations or low-cost alternatives due to our limited budget, a perfect example of this being the top step of the staircase which is actually an old office desk covered in some free carpet.
The British racing green metalwork against the oak timbers really gives off that vintage automotive vibe. We've tried to blend our modern tastes with this old school look and have filled the white space with our artwork and trinkets, almost resembling a gallery.
(A collection of our various bits of artwork and trinkets.)
Even we are surprised by the outcome. Not for a second did we think it would end up feeling so homely, and we'll often have flashbacks while tinkering under the bonnet of a motor to that once dingy and disgusting place just over half a year ago. The before and after is outstanding, and seeing the reaction on people's faces at what we have accomplished emphasises the huge transformation that it is.
We're incredibly proud of our hard work, and finally we're able to resume what's most important to us, building cars and having fun with friends. And to top things off we're stoked to welcome back our fellow Weasel, George, who has recently returned from 2 years in Canada, and is ready to help us build the brand and achieve our ambitions. 
We're all excited to use our new space for modifying cars, creating entertaining content, and hosting small events for like-minded individuals to come down and attend. 
https://www.youtube.com/watch?v=zRNmA0Pw35M
Watch the YouTube video for the grand tour of our new space and make sure you subscribe to our social media channels, because this is only the beginning of WeaselWerkz. 
Scott Pattenden & Jamie Bradley